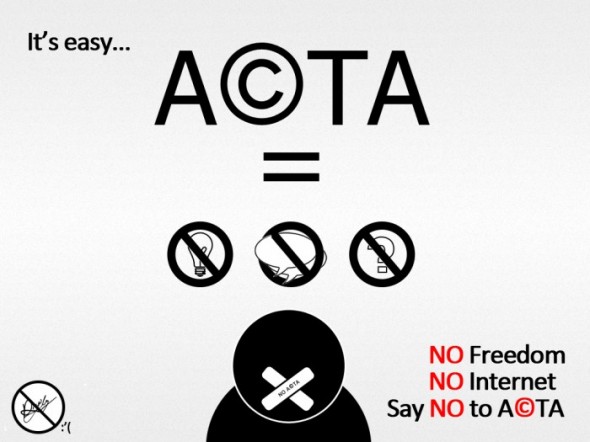 ACTA also known as Anti-Counterfeiting Trade Agreement is aimed squarely at protecting digital copyrighted works from being redistributed freely over the internet.
The idea is to stop free distribution of digital content such as music, videos (movies etc…), programs applications …. or any digital format products from being redistributed freely over the internet. All this in order to protect content producers investments in creating their work, only to end up being given away freely over the internet, and nothing gets paid to these producers who created the content to begin with.
Sounds good doesn't it ?
The thing is, the ACTA solution has bigger and far ranging effects that exceed this goal. It will stiffle idea sharing, free speech, and privacy issues on the internet.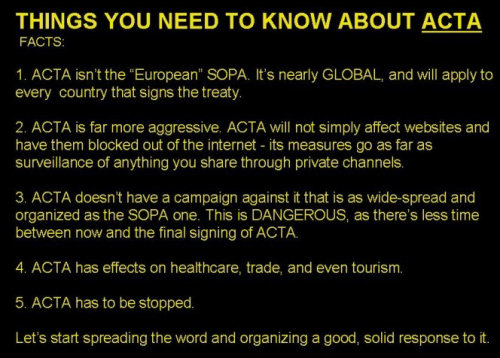 Example, Diablo 3 gaming live streams (e.g. like the one at Diablo Expressions) or other game streams for that matter would be illegal because you are streaming content from the game which Blizzard made, hence you won't be able to do that. Just imagine you will no longer be able to innocently make online streams such as that to engage and communicate with other netizens using fan made re-mixed content that usually get archived and re-posted onto video sharing platforms such as Youtube ……
There will also be no privacy as everything you do on the internet will be even more scrutinized than before. Even if you don't have a criminal record, you will still be treated as such and having big brother watching over your shoulder whenever you are surfing the web ……
As for freedom of speech, now that they can monitor everything you are doing online, they can easily censor your opinions online quite easily. So much for the internet being a net neutrality network if ACTA was to pass.
Anyway watch this video by Anonymous that explains it in layman terms
Very recently Anonymous defamed the sites of the parties who are involved behind pushing for ACTA which you can read about here.
Personally i don't like such behavior, but when the parties involved are only looking after corporate lobbyist interest, and not the general public ….. who will stand up for us netizens ?
I can respect producers of content in wanting to earn their fair share for the digital content they made, however i believe that the pricing for these digital content is unrealistic seeing as the digital format medium is a 21st century technology and is totally different from physical products ownership/terms of use. As such, there should be new rules and regulations to making pricing and ownership of digital products to reflect 21st century technologies and norms.
The digital content mafia such as the RIAA and MPAA both disagree and want to keep the status quo by keeping the old and outdated systems for digital ownership the same as physical products, when actually they are hardly the same thing.
Example, if i buy a car, and remake the same physical product and give it away either for free or for sale, that is counterfeiting as you are infringing on their patents for their physical product …. but if i buy a digital product i can easily upload online to share it and it will be an exact copy of the original product. Also if someone bought it legitimately, then shouldn't this item belong to them ? So they can share it with whomever they damn well please ?
Like pharmaceutical companies, they are by law obligated to make their medicines available to other companies to make cheaper imitation copies once their patent for the drug expires. So shouldn't digital media also be the same ? So there will be a period for the content makers to earn the profit from their hard work. But after a certain period, then buyers who own a copy of the original will then be allowed to redistribute for free as now the content they bought fully belongs to them. Rather then be allowed to endlessly sell and resell an item forever without giving digital buyers any rights how to use the digital product they bought legitimately ?
You decide :}
But the other worrisome thing about this whole situation, the negotiations regarding ACTA are being done in secret, and was only brought to the publics attention when wikileaks broke the news. When a far reaching and controversial agreement like this spanning many countries globally is done under secrecy without any public scrutiny …. you know it's not good for the general public. These politicians need to be held accountable and told by their citizens they are not going to put up with these criminal trade acts that are being championed by these corporate lobbyists that have already infiltrated into governments worldwide.
Anonymous yet again explains the situation of how such a thing as ACTA is being bypassed from public scrutiny and also the dangers regarding the interpretation of the agreement which proponents say is safe, when actually it is not.
I think this isn't simply a matter of protecting digital media rights, but is to also prevent sites like wikileaks from exposing any controversy from governments from leaking out over the internet and causing public scrutiny. If the matter being leaked is innocent, then what is the harm of it being scrutinized by the public ? Aren't most of these democratic governments revolved around the idea that they are elected by the people for the people ? If that is true, shouldn't controversial issues that affect many of us such as ACTA be made known and be under public scrutiny or given any say in the matter ?
So if you don't want your online freedoms to be jeopardized, speak out now to your politicians stating not to support ACTA, as it will kill off net neutrality as we know it.
And if by this point you still aren't convinced, then consider this before and after video to illustrate how innovation and ideas on the internet will be stiffled if ACTA passes.
Before (the internet as we know it)
After (if ACTA does pass into law globally)
o.O; just imagine a world without stuff like Nyan cat being come up with simply because of internet copyright censorship that stiffles such innovations on media platforms like Youtube *cry
Anyways i strongly suggest you also read this good article by ArsTechnica that explains the current situation regarding ACTA. Below is a short excerpt from their article on the matter.
The United States, Australia, Canada, Japan, Morocco, New Zealand, Singapore, and South Korea signed the Anti-Counterfeiting Trade Agreement on Saturday, an accord targeting intellectual property piracy.

The European Union, Mexico and Switzerland—the only other governments participating in the accord's creation—did not sign the deal at a ceremony in Japan but "confirmed their continuing strong support for and preparations tosign the agreement as soon as practical," the parties said in a joint statement.